Source: OMS confirma: novo coronavírus não se transmite através do ar – Ciência & Saúde – SÁBADO
"O coronavírus é sobretudo transmitido através de gotículas geradas quando uma pessoa infetada tosse, espirra ou fala". Num estudo publicado este fim de semana, a Organização Mundial da Saúde (OMS) analisou as formas de transmissão do vírus que causa a Covid-19 e chegou à conclusão que não se transmite através do ar.
"A transmissão por gotículas produz-se quando uma pessoa que se encontra em estreito contacto (menos de um metro) de outra que tem sintomas respiratórios (como tosse ou espirros) e entra assim em risco de por as suas próprias mucosas (boca e nariz) ou os seus olhos expostos a gotículas respiratórias potencialmente infecciosas", explica o estudo. "Assim, o contágio pode produzir-se por contacto direto com uma pessoa infetada ou por contacto com uma superfície ou um objeto que esta tenha utilizado".
No entanto, em casos de tratamentos médicos, o cenário altera-se. Em situações muito especificas, como os tratamentos médicos nos quais se gera um efeito de aerossol – intubação ou respiração assistida –, esta transmissão aérea pode ocorrer. Por esse motivo, a OMS ressalva a importância de que os equipamentos de proteção individual, como as máscaras, devem estar reservados para os profissionais de saúde.
Num alerta divulgado nas redes sociais, a OMS relembra: "Pode ser infetado ao respirar o vírus se estiver a menos de um metro de uma pessoa que tem Covid-19, ou ao tocar numa superfície contaminada e depois tocar nos olhos, nariz ou boca antes de lavar as mãos".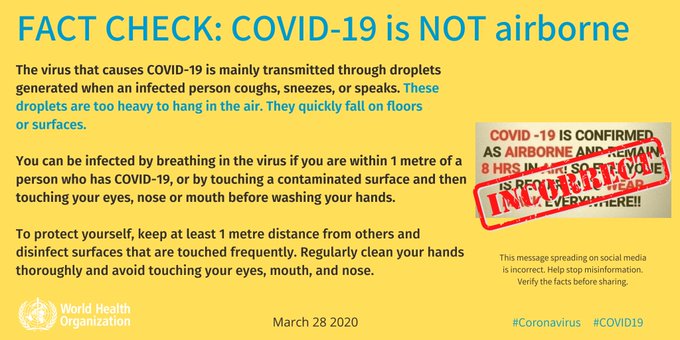 Para se proteger, explica a OMS, "mantenha pelo menos um metro de distância dos outros e desinfete as superfícies que são frequentemente tocadas. Lave regularmente bem as mãos e evite tocar nos olhos, boca e nariz".
O número de mortos em Portugal devido ao novo coronavírus aumentou esta segunda-feira para 140. No total já há 6408 infetados no País – um aumento de 446 casos em 24 horas.
Os casos recuperados mantém-se nos 143, revela o boletim da Direção-Geral da Saúde (DGS). Estão 164 pessoas na unidade de cuidados intensivos e 571 internadas.
---
Disclaimer
Some of the posts we share are controversial and we do not necessarily agree with them in the whole extend. Sometimes we agree with the content or part of it but we do not agree with the narration or language. Nevertheless we find them somehow interesting, valuable and/or informative or we share them, because we strongly believe in freedom of speech, free press and journalism. We strongly encourage you to have a critical approach to all the content, do your own research and analysis to build your own opinion.
We would be glad to have your feedback.