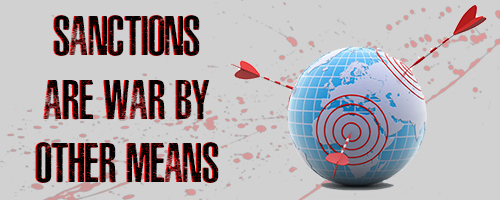 Imposing sanctions on a country is a way of waging war against that country. It's not just that economic embargoes can cripple nations' economies nor that they tend to disproportionately affect innocent civilians. No, the reality is even more stark than that: sanctions kill. Don't believe me? Let's look at some of the examples of how sanctions have been used throughout history as a tool of warfare.
The post Sanctions Are War By Other Means first appeared on The Corbett Report.
Disclaimer
Some of the posts we share are controversial and we do not necessarily agree with them in the whole extend. Sometimes we agree with the content or part of it but we do not agree with the narration or language. Nevertheless we find them somehow interesting, valuable and/or informative or we share them, because we strongly believe in freedom of speech, free press and journalism. We strongly encourage you to have a critical approach to all the content, do your own research and analysis to build your own opinion.
We would be glad to have your feedback.

Source: The Corbett Report Read the original article here: https://www.corbettreport.com